Belgium


PhD student, STSM
WG 1 Policy and Urban Development
Mr Giles Bruno SIOEN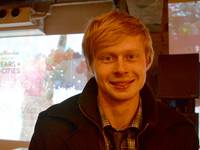 The University of Tokyo
Belhuttebaan 101
8680 Koekelare
Phone: +818078483618
Fax: /
---
Research interests
Giles obtained his bachelor's in landscape architecture (HOGESCHOOL GHENT) and master's in urban planning and design (LUCA SCHOOL OF ARTS), where he had the opportunity to obtain a broad foundation of international design and experience in Belgium, The Netherlands, Costa Rica, China, and Japan. As a student, Giles has developed concepts, detailed design, and academic papers. Apart from academic skills, he also obtained practical experience through internships, and contracts with leading international design companies (Turenscape, Buro2&archi+1) and organizations (UN-Habitat ROAP).

Through a variety of experience in diverse scales and geographic locations, he has managed to obtain a unique set of skills both focused on high dense urban cities and rural areas. Participation in these highly demanding intercontinental programs has allowed him to look at problems from different perspectives. In addition, Giles strongly believes that it is necessary to look at each project holistically and develop solutions which can keep in mind the cultural identity of people and environment.

Based on scientific research, Giles is concerned about humanitarian needs and the development of sustainable communities by implementing concepts of sustainability. The effects of climate change need to be addressed in order to mitigate and adapt our lifestyles. Convinced that a comprehensive design cannot meet all requirements, a strategic evidence-based approach is needed. However, it is not only necessary to meet the requirements of the project but continuously develop solutions and engage in collaborations in order to achieve sustainability on all levels.

At The University of Tokyo, his current PhD research is on sustainability in urban planning and design through urban agriculture (UA). His focus is on vegetable self-sufficiency rates in megacities on a neighborhood scale and disaster preparedness with UA is explored considering the risks natural disasters have to megacities.
---